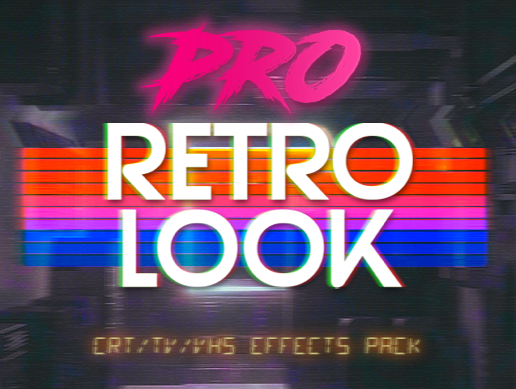 [UnityAsset] Retro Look Pro
UNITY FORUM | WEBSITE | API

Retro Look Pro is a best Post processing effect, that will bring to your game fantastic oldschool classic look.
It emulates screen bleeding , artefacts , tape noise , interlacing, shake, glitches and other effects. It is the best and complete solution for retro like games, 80's/90's/Retro/VHS/Glitch/TV look, security cameras or robotic eyes.

Fully suitable for Desktop, mobile, WebGL.
Unity 2017-2019 versions support

Lightweight Render Pipeline support
21 effects 129 parameters + 31 filters presets fully configurable within the inspector and through scripts.

Standalone and Post Processing stack v2 effects versions included.
• Profile-based settings
• Blend effects through local or global volumes
• Cinemachine support
• Custom render ordering

This asset will give you lots of options and easy to implentation. Just slap it on your camera, adjust preset and you're good to go.

Great for :
*Retro styled 2D/3D games
*Emulating TV
*FPS HUD when player is damaged/weakened
*For added suspense in horror titles.

Features :

TV effect
Emulation of TV screen
Image warping
Rescale resolution
Horizontal scanlines
Light/Dart masks adjustments

VHS effect
Noise Textures to emulate interference
RGB Separation with angle adjustment
Vertical alignment distortion.
Horizontal wave distortion.

Scanlines
Horizontal and Vertical scanlines
Speed adjustment
Color adjustment
Scanlines Warp with 2 modes
Scanlines distortion

Ultimate Vignette
Emulates a real screen with rounded corners of the image with adjustable parameters
Control inner color
2 modes: rounded corners and simple circle
Inner color fade and size adjustment

Bleed effect
Colour Bleed effect seen on video tapes where strong colours seem to spread out from their correct places and bleed into adjacent areas.
NTSC 3phase bleeding
NTSC 2phase bleeding
Tools to fine-tune
Bleeding with stretch adjustment

Glitch One
Periodic digital disturbances
Speed and stretch effect controls

Glitch Two
RGB color and block image distortion

Glitch Three
Digital image block damage.
Amount and block size controls

Distortion
Verical shake
Horizontal stretch
Horizontal and vertical Jitter effects

Noise
Different kinds of noises with many adjustable
options
Granularity
Signal noise
Line noise
Old tape noise

Fisheye Vignette
Emulates a real screen by bending the corners of the image with adjustable parameters.
Bend option
Cut off screen on X and Y axes
Vignette on X/Y axes

Pulsating vignette
Simple vignette with blinking feature
Pulsating speed control
Vignette amount control

Colormap Palette
Colormap filtering with 31 presets and pixelation effect.
31 presets
Dithering effect
pixelation effec

Old Film
Emulation of old film tape
Burn Image
Control effect FPS and contrast

Negative
Simple negative image effect

Bottom Noise and Stretch
Noise/Stretch texture intensity control
Bottom stretch with distortion and height controls to emulate VHS tape
Various noise textures included

Picture Correction
YIQ color space and gamma adjustments

Trail Artefacts to emulate old TVs

Cinematic bars Simple widescreen black bars

Warp Separate warp effect to blend and sort with other effects
Cubic lens distortion
Simple warp


You can contact me :
limitlessunitydevelopment@gmail.com

Purchase
In order to download this tool you must purchase it at or above the minimum price of $40 USD. You will get access to the following files:
Retro_look_pro_v2.1.1.unitypackage
52 MB